"One of the most common incorrect assumptions I see first-time new home shoppers making is that new construction is more expensive than resale," says Aric Maurer, a New Home Sales Counselor. "If I can spend time with them and show them an apples-to-apples comparison they are usually pretty amazed at how comparable the costs really are."
The Guide on How to Save Thousands on a New Home
ENERGY STAR homes save you money:
Our 2012 homes have the latest ENERGY STAR Construction features that promote LOW monthly energy bills and some great financing benefits such as tax credits and lower interest rates. How much can we save you a month? Each of our homes goes through a 3rd Party HERS test prior to closing. The HERS report generates an estimated annual savings on utility bills as compared to a home built to the 2004 International Residential Code (IRC). The estimated average annual savings is $380.**
Ask for a complete HERS report.
ENERGY STAR Financing
Not only that, but with an ENERGY STAR home you can get an EVEN lower interest rate! You can save up to 0.25% on your interest rate. When comparing 4% and 3.75% on a $300,000 loan, that is an additional savings of $62.50 a month or $750 per year. There is only one lender in Summit County who has this incredible program available... Ask me for more lender information.
Lower Maintenance Costs/ Warranty
Your new home is protected by workmanship, material and structural warranties as well as direct manufacturers' warranties for items such as stoves, dishwashers, etc. If something does go wrong, it is a matter of posting a warranty claim online versus tracking down someone to make the repair and writing a check. And, it's not just about your budget – it's about having confidence that a problem is handled before it even occurs. The following list contains some common repairs you may not be thinking about when looking at purchasing a resale:
Furnace hot surface igniter replacement
Garage door cables and rollers replacement
Door hardware – new lockset installed
Dishwasher – replace leaking main seal
Replace hot water heater
Washing machine belt or drive motor replaced
It is easy to see how the average cost to maintain an older home can add up to as much as $200 month.
Our new homes have a One Year Limited Warranty* and with the fiber cement siding, composite decking, ENERGY STAR appliances & 30 year shingles, the maintenance costs for the first 3 years are minimal. An estimated cost savings of $2400.
Customization!
In a new house, you can pick your own color schemes, flooring, kitchen cabinets, countertops, appliances, custom wiring for your flat screen TV, computers, phones and speakers, etc. There are a handful of more great options to make your home custom & unique! Modern features like media rooms, custom closets and bathrooms and tubs are also more attainable in ground-up construction. In a resale home, you rely largely on the previous resident's tastes and technological whims, unless you plan to spend thousands on remodeling and rewiring. Call or email for more information and to see if you qualify for $5,000 in FREE upgrades!
Death & Taxes
The old saying goes, there are two certainties in life: death and taxes. Perhaps they should add a part 2(b) to that rule: Taxes on a new home are significantly lower in the first 12-24 months than on a similarly valued resale home. Taxes on a new home are assessed the January prior to completion. This means that your tax bill the first year of Homeownership will be based off a vacant lot or Pre-construction phase of the home. The assessed value is much less then a completed home. Of course, taxes will catch up to you the following year, but you will get a first year break. For Example, if the vacant lot prior to construction is valued at $80,000, the real property tax would be $1,227. By comparison, if the completed resale home is valued at $450,000, the real property tax would be $1906. That is a $679 difference which means in the first year of owing a new home you will save $679 in real property taxes.**
So let's do the math one more time: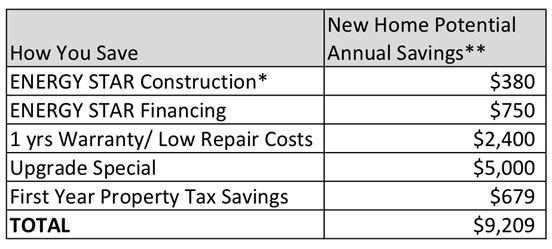 *Average annual savings as reported on HERS rated homes in the Wellington Neighborhood.
You can see that there are multiple ways for you to save money Right Now on a new home. We know it's cliché, but really, there has never been a better time to buy a new home.
Feel free to contact us for more information, questions and to setup a time to view the new homes we have still available.
Courtney Kenady
The Wellington Neighborhood
www.Poplarhouse.com
(O) 970.453.5303 Ext. 703
(C) 970.418.4900
Visit our Sales Office at 24 Leap Frog Green
(Click link above for map)
Hours: M-F 11am to 5pm
Sat. & Sun. by appointment.
Call for an Appointment today!
** Each home and buyer's set of circumstances are different. So, ask questions and get the specifics on your house – whether it is a resale or a new home. Let me know if I can help.
Courtney@poplarhouse.com